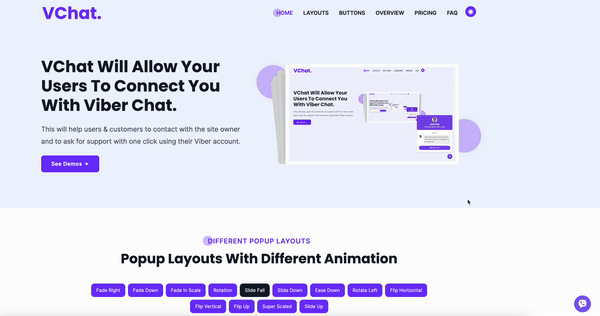 NOTE: For working this plugin on desktop devices users need to have installed and run the desktop version of Viber. For working on mobile or tablets it's requires Viber mobile/tablet apps installed.
vChat allows your customers to click a button/bubble and open a conversation from your react websites directly to your "Viber" phone number. This plugin includes different types of chat layouts for Viber and other Viber buttons where you can set up your and your support manager's available time for a chat. The chat options will automatically open users' Viber apps on their mobile or desktop devices if they have Viber installed. It's made with modern react, so you will able to use it in any react or react frameworks like Next.js. We have tons of different options to make it functional and interactive. We have lots of animation options you will able to choose the one that you love most.
Main features
Single chat support – This option will allow you to add a bubble with a single Viber number support.
Multiple accounts chat support – This option will allow you to add unlimited chat agents with different numbers per agent.
Different chat buttons – We provide a set of buttons to use anywhere on your website and all functionalities also can be set with each button.
Availablity time – You will have available time for a single chat, multi-agents and on the buttons.
Set timezone – You will able to set your timezone so your time will work based on your time otherwise it will work from the user's computer's time.
Let your audience you're offline – Based on your available time it will show you offline when you are not available
Chat animations – We have lots of animations to show the button UI awesomely.
Device specific view – The plugin has an easy option for showing the plugin only for desktops, only for mobile, and only for tablets.
Free support & one-time purchase – You can ask any question before or after buying the plugin and you will get a lifetime update of this plugin with a one-time purchase.
Easy to customize – The plugin is include a proper documentation. The main file only has some js, CSS, and HTML code. So you will able to customize it easily. If it looks complex, never hesitate to ask us to install it for you free of cost.
Well documentation – We tried to make the documentation as clear as possible. We hope you will able to manage it without any coding experience.
Changelogs

05 Dec 2022 (Version: 1.1 - Latest)
- Added different bubble buttons version
- Update codebase

11 November 2022 (Version 1.0)
- Initial release