Metro Mobile – A Mobile Theme for vBulletin 4.2.5 Forum, Blog and vB CMS
We are proud to announce Metro Mobile – a mobile vBulletin 4.2.5 style that fully supports forums, blogs and vB CMS. Metro Mobile theme is a clean, contrast and modern vBulletin style to display you forum on a mobile device.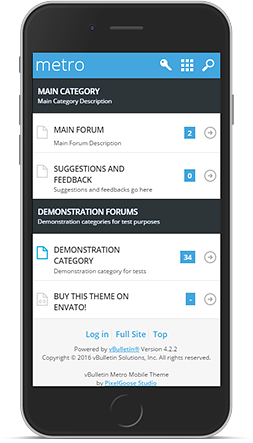 Features
10 color schemes;
Google web fonts;
Completely remade icons;
Layered PSD files included;
Cross browser support;
Easy installation;
Full documentation and support.
Color schemes
The theme has 10 color schemes – Blue, Teal, Green, Lime, Golden, Orange, Red, Violet Red, Purple and Black & White
QRCode to view the theme on your mobile device

Update List
Version 1.0.6 - 05/05/2018
* http/https paths fix for external links

Version 1.0.5 - 13/12/2015
* Search button overlapping grid menu items fixed
* Updated templates:
   - vbulletin.css

Version 1.0.4 - 26/07/2015
* Theme updated to vBulletin 4.2.3
* Updated templates:
   - vbulletin.css
   - headinclude

Version 1.0.3 - 24/12/2013
* Facebook login fixed

Version 1.0.2 - 12/07/2013
* Updated version number for 4.2.1 compatibility

Version 1.0.1 - 03/04/2013
* Embedded videos width fixed

Version 1.0.0 - 13/02/2013
* initial released