Let your users buy or swap cryptocurrencies with ease – PayPal, bank cards accepted. Unlock the ultimate revenue stream with our cutting-edge crypto exchange.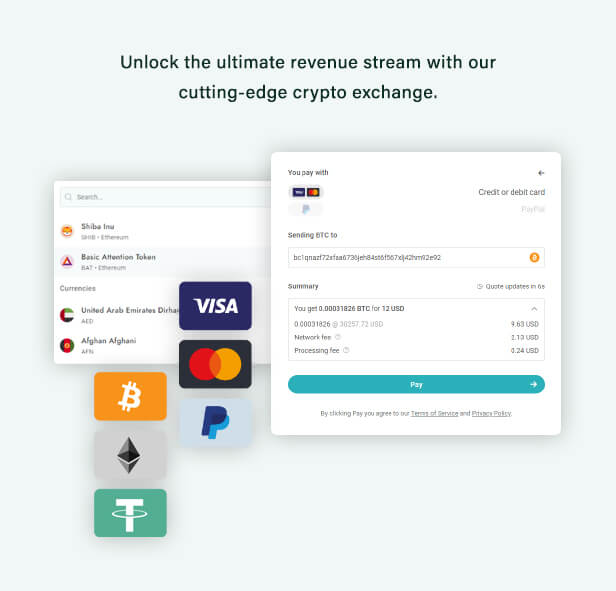 Buy
Lets your users buy cryptocurrencies like Bitcoin using their PayPal account or credit/debit card.
Swap
Lets your users exchange cryptocurrencies like Ethereum for other cryptos like Tether USDT.
Collect Fees
Are you ready to turn your website or app into a money-making machine? With our innovative solution, you can set a fee for every exchange transaction made by your users and watch the profits roll in!
Know Your Customer
Stay compliant effortlessly with ComplyCube's KYC and AML verifications. Enable OTP email verifications and keep regulators and the law happy. Integrating is a breeze – under 60 seconds and you're done!
Supported Cryptocurrencies
Users can send/sell all cryptocurrencies supported by Boxcoin. At present, users are able to receive/buy only Bitcoin, Ethereum, and Ethereum-based tokens, including ERC-20 tokens..
More features
Address Validation
Switch Currency by IP
Lightning Network
Notifications
Responsive
Exchange Live Demo
Changelog